LET US BE THE SOLUTION TO YOUR INDOOR AIR POLLUTION
"Vent Pro's mission is to provide exceptional service through our knowledge, certification, high work ethic and genuine care for our customer's health. We want to build long lasting relationships with our customers and provide an important service to the community by offering our services at truly a good value for your money. We have made it a point to make an air duct camera a part of our cleaning process. We are one of the only companies in this area who actually want to show the customer what is in their air ducts before we begin, and then again after we have done the job. That gives our customers peace of mind that we provided excellent service."
Residential Air Duct Cleaning
Vent Pro only uses the proper techniques with state of the art equipment to ensure your air duct system is cleaned efficiently and thoroughly. We use two methods depending on the size and design of the home. This includes either direct contact method or negative air method.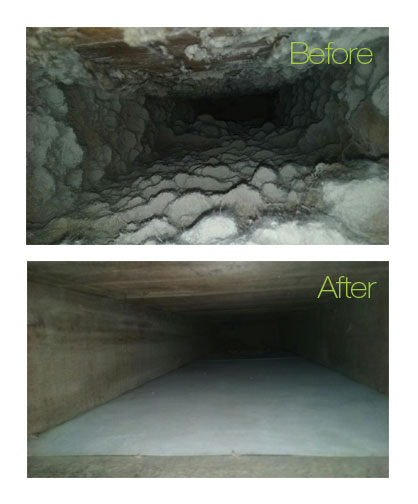 These are the steps we use to properly clean your system: ​
Step 1) Clean the furnace/air conditioner *After testing the system for proper operation, we will disconnect the power before opening the unit for safety. *Vacuum the interior surfaces of the Furnace/Air Conditioner *Clean the cooling coils with a HEPA vacuum and a coil cleaner *Clean the Blower unit
Step 2) Clean the supply and return registers and grills *Remove wall, ceiling and floor registers *Wash register with cleaner and rinse
Step 3) Clean the supply and return ducts *Clean all air ducts using powerful duct cleaning equipment (Direct Contact or Negative Air method)
Step 4) Install electrostatic air filter and odor control products (Optional) *Decontaminate cleaned ducts with sealant and Odor Deodorize
Dryer Vent Cleaning ​​​​​​​
Why should I clean my dryer vents? ​​​​​​​
There's a hidden fire hazard in every home...it's the dryer vent. Over time, the dryer vent fills with the lint that gets by the dryer's lint trap. Here are some facts: ​​​​​​​
*The Consumer Product Safety Commission estimates that over 15,000 clothes dryer related fires occur every year. ​​​​​​​
*Accumulation of lint and reduced exhaust air flow provide conditions ripe for a fire. Lint is highly combustible and one of the main ingredients in a recipe for homemade firestarters. ​​​​​​​
Who needs this service? ​​​​​​​
Almost everyone with a dyer needs this service! Especially those homes with dryers located on inside walls or those located on 2nd floor laundry rooms. These centralized locations cause dryers to be vented greater distances, sometimes 50 feet or more. This increases the risk for lint buildup and other obstructions that can seriously affect the dryers performance. ​​​​​​​
If you answer YES to any of these questions, you need your dryer vent cleaned: ​​​​​​​
1) Does it take more than one cycle to dry your clothes? ​​​​​​​​
2) Is the dryer vent hood flapper able to open? ​​​​​​​
3) Are the clothes coming out of the dryer hotter than normal? ​ ​​​​​​​​​
Our comprehensive lint and debris-removing system includes the Vent Vac, one of the most powerful vacuums in the industry today. We combine this powerful machine with the Cobra II, a powerful rotating brush that enables us to remove almost any type of blockage including bird's nests from your dryer's duct and vent system. ​​​​​​​​
Also, our technicians will inspect your system for any disconnected or damaged vents. We can also tell you if your venting system is up to your manufacturer's recommended specs. ​​​​​​​
With lower utility bills and the longer life of your dryer and clothing, a dryer vent cleaning will pay for itself. Not to mention the peace of mind you will have in knowing that you have averted a potentially dangerous fire hazard in your home.
Does your office suffer from "Sick Building Syndrome?"
Do many of your employees have symptoms of headaches, sinus problems, eye irritations, runny nose, shortness of breath, nausea, or upper respiratory distress?
Does illness symptoms go away when employees leave at night or go home for the weekend?
Do you notice dirt around the heating or air conditioning vents?
Does your finger collect dirt as you wipe it across your desk or file cabinets?
All of these are tell-tale signs of indoor air pollution spread by dirty HVAC systems!
Commercial Services
We provide air system and duct cleaning for any size building. In addition to cleaning all of the components of the HVAC unit, we employ a "push-pull"method for dirt/debris removal from the air ducts.

Using high powered HEPA negative air machine (attached to a major duct), compressed air and/or a powered brush is applied to each air duct, loosening the dirt and "pushing" it to the removal source for containment and proper disposal.

If you want a free quote from one of our certified Vent Pro technicians, call us at 309-531-5129.
---