Now open for lunch every day!
"7 people, 5 pizzas, 2 salads and some beer. It was a hit. They use fresh ingredients and the sauce is not too sweet. Server that waited on us was super!!! If ever in the area again I'd go back! ... Comes out super quick!"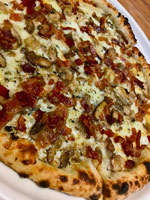 Our food menu features something for everyone. We have a full menu, featuring appetizers to warm you up, sandwiches, salads, desserts, and of course, our crispy oven-baked Naples Style Pizza prepared just for you.
Find your new favorite today at Crust.At Crust Pizzeria, we prepare and serve a traditional Naples style pizza. We use the freshest ingredients imported from Italy.
Check out our selection of beers from around the world. Try something new or find your next standby. We have dozens of varieties of beer, including our featured beers, seasonals, on tap, and bottles.We're sure you'll find something that hits the spot.
---