Our Customers "Wants" Are As Important As Our Customers "Needs"
Model Printers was established in 1900 in downtown Moline. In 1910 it was purchased by a group of businessmen who published the Gazette van Moline, a flemish-language newspaper. Joseph Van Lancker was among these businessmen and eventually became the sole owner of both businesses. Joseph's sons, Arthur and Robert, became partners with their father. The last issue of the flemish newspaper was published in 1940, but Model Printers c o n t i n u e d on with Art and Bob. In 1980 Art's son, Steven, joined the partnership; b e c o m i n g sole owner in 1985. As Model Printers third generation owner, Steve and his wife, Chris, are proud to continue the family business in the same downtown Moline location. Stop in the shop to see a bit of the past in the present.
We believe in
Quality Printing Production - Personalized Customer Service - Satisfied Customers
We want our customers to expect nothing less.
If you value QUALITY, SERVICE and SATISFACTION, we invite you to check us out.
Established in 1900, Model Printers strives to retain old school values.
• Business Cards
• Letterhead
• Envelopes
• Address Labels
• Product Labels
• Carbonless Forms
• Business Forms
• Continuous Forms & Checks
• Note Pads
• Brochures
• Newsletters
• Booklets
• Programs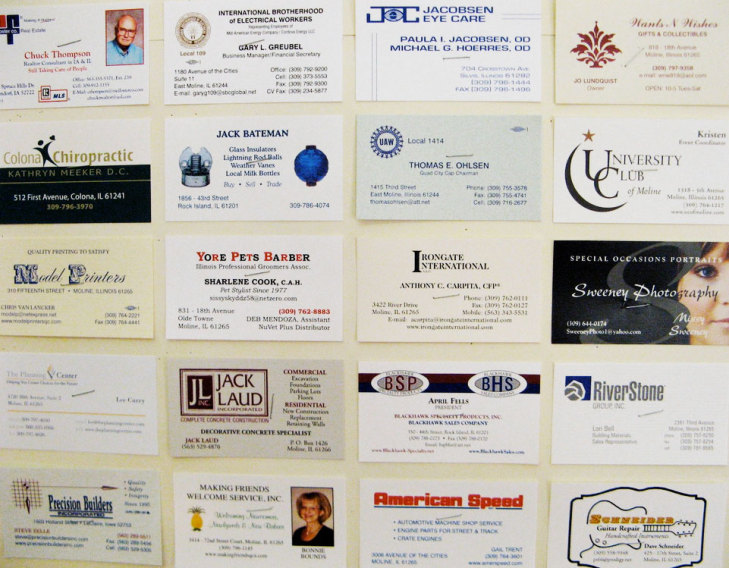 • Flyers
• Posters
• Menus
• Gift Certificates
• Resumes
• Raffle Tickets
• Entry Tickets
• Personal Stationery
• Wedding Invitations
• Wedding Programs
• Napkins
• Party Invitations
• Announcements
• Christmas Cards
• Note Cards
• Bookmarks
• Yard Signs
• Bumper Stickers
• and More!!!!

CUSTOMER SERVICE
Stop by the shop to view the bulletin boards
filled with samples. Chris or Rich will be happy to
show you the variety of type fonts, paper stocks and
ink samples to choose from to compliment your
order. Orders may also be placed by phone, fax or
e-mail. Can't remember what you ordered last time?
A log of your past orders is kept for quick reference.
• TYPESETTING & LAYOUT
Let us help you portray a
"Quality Image" by producing
the type and layout for your
order. Proofs are provided for
your review and approval.
Major computer programs used
are Quark, Adobe Photoshop, Adobe Illustrator,
Adobe InDesign, and Word.
• QUALITY PRESS PRINTING
Offset printing
presses produce a
crisp, quality image
while the older
Letterpress printing
presses allow us to
number, imprint and add other custom touches.
Care is always given to your order to ensure a quality
product the first time.
• FULL COLOR XEROX DIGITAL PRINTING
Today's demands for color have finally produced
a machine worthy enough to
produce the quality Model
Printers expects. Brighten up
your brochures with colored
photos or reproduce vintage
photos for scrapbooking. There
are many possibilities here!
• FULL SERVICE FINISHING
– Trim – Fold
– Perforate – Score
– Number – Pad
– Drill Holes
– Gather – Staple
– Booklet make
– Spiral Bind – Round Corner – Box/Wrap
• FREE PICK-UP AND DELIVERY



---