A Reputation Built on Quality
• Roofing
• Siding
• Gutters
• Windows
• Skylights
• Doors
Thank you for visiting Peterson Roofing on Locals Love Us. Please feel free to browse our Facebook page and our website at
www.petersonroofing.com
. We trust that you will gain the knowledge necessary to make an informed decision about your roof, siding and gutters.
Thousands of homeowners in the Quad City area have trusted us with their homes. For over 30 years we have been protecting area homes from the harsh Midwestern weather. Ask around and you may find we have worked for your neighbors, friends and family.
We want your next roofing or home improvement project to be done by a company that has stood the test of time and the test of severe weather. It's not every day that you roof or side your house so the decision you make is a very important one.
From the beginning estimate until the final nail is driven, rest assured your experience will be a pleasant one. Don't take a chance with your most important investment!
We complete over 200 jobs every year and have thousands of satisfied customers! We have worked for the most demanding customers. Local building inspectors and home builders trust us to roof their own homes. From the largest apartment complexes to the smallest home, rest assured we have the ability and the know-how to please the most important customer. YOU!
All materials are premium quality and are backed by reputable manufacturers. Our standard shingles come with a lifetime warranty. Designer and metal shingles have a limited lifetime warranty as well. There are many styles and colors of shingles and siding to choose from.
Peterson Roofing is fully insured and we give free estimates. Materials are installed to manufacturers specifications and job sites are cleaned daily. Most roofing jobs take 1- 2 days to complete end our prices are very competitive. The quality work that we do is reflected in the large number of satisfied customers who recommend us!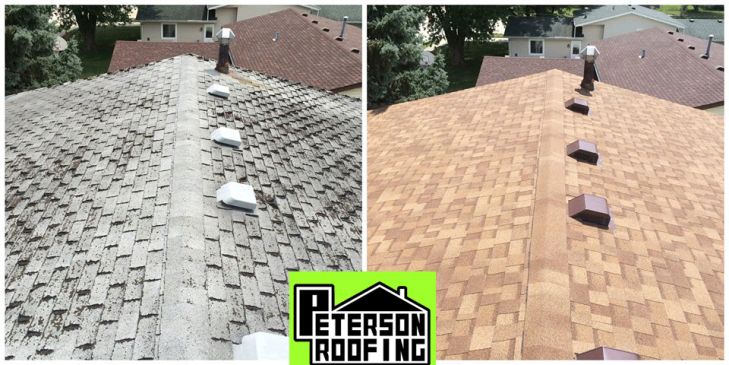 Locals Love Us!
"They did a great job on our roof! Thank you for your integrity, workmanship, professionalism, efficiency, and attention to detail." - Connie, Facebook
---