STRONGER IN 30 MINUTES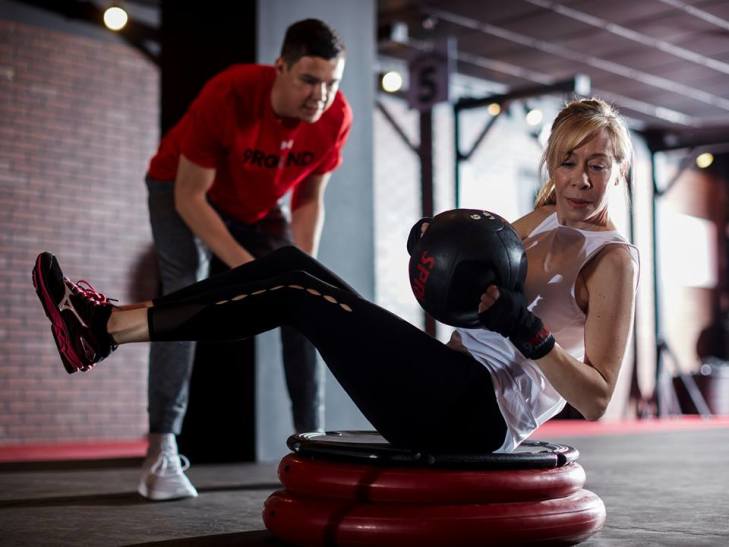 WHAT MAKES 9ROUND DIFFERENT
9Round is different because it includes everything you need: a full-body workout that's fast, effective and fun... personal trainers to help you... and expert nutritional guidance. And it's all based on the latest exercise and nutritional science.
9Round started from a place that many businesses do, a desire to change people's lives. Busy parents, owning and running a karate school, Shannon "The Cannon" Hudson, an IKF Light Middleweight Kickboxing World Champion, and his wife, Heather, had a vision. They wanted to create a place where busy people, not unlike themselves, could go to get a killer workout without planning their whole lives around making a class time, or spending hours at the gym. Shannon's martial arts and kickboxing training, and Heather's own passion for fitness were the foundation that the 9Round Franchising empire would be built upon. 9Round is a specialized fitness center for people who want an unique, fun, and proven workout that guarantees results.

9Round offers a kickboxing themed fitness program that incorporates a functional, interval, cardiovascular, and circuit training regimens.

The programs consist of a proprietary system of nine challenging workout stations developed by a World Champion Kickboxer.
Here's what you get as a 9Round Member:
- A fast, fun 30-minute workout
- No class times, you're always on time
- Trainer included every time to motivate you
- Different workouts daily, so you never get bored
- Expert Nutrition advice included
---