building a firm foundation for the future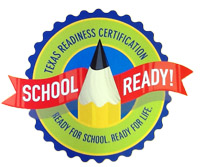 ABC Pre-School will provide a quality learning experience for your child, spread out on two acres nestled in a country setting. Each room is set up with learning centers to provide a hands-on learning environment. Centers teach the children to problem solve, giving them a firm knowledge of how and why things work. We put a strong emphasis on learning by doing. We have two TEEM (Texas Early Education Model) four-year-old pre-k classrooms. The curriculum teaches phonics and reading skills that are the fundamentals of early learning through "the Letter People" curriculum. Our 4-year-olds put on a musical twice a year; the second includes a graduation accepting a diploma in cap and gown on stage.

We accept infants as young as six weeks and provide formula and baby food until 11 months of age. After 11 months of age, we provide a well balanced breakfast, lunch and daily snack.

Our teachers have Child Developmental Associates (CDA), and they know all the tricks to keep your child well adjusted and wanting to learn.

We provide fun for all ages, swimming starts with our 3-year-olds, horse back riding and computer lab for after-schoolers. Our classrooms are divided by age and stages; we have three 2-year-old classrooms to provide the ultimate in learning environments with potty training experiences to delight the most strong-willed of toddlers. Our playground is divided into ages with tricycles to drive around the entire play yard.

Choosing the right child care setting for your child is very important. At ABC we provide a place where your child is safe, so you may go on with your day feeling confident that your child is being taken care of in a constructive learning environment. Our learning programs are created by specialists in child development and are designed to help children grow socially, emotionally and intellectually. We teach both constructive as well as abstract concepts. We encourage children to learn as they play. We recognize the trust and confidence you have placed in us and offer you an opportunity to share in the joys of childhood at ABC. Laughter, hugs, sharing and discovery are what being a child is all about. Your participation as a partner in your child's early learning experience is important to us.
---