simple country elegance
Nestled in 10 acres of shady oak trees, Centaur Arabian Farms is a secret getaway unlike any other. Bill and Eva Sealey put their hearts into developing their property into the perfect location for a wedding you will not soon forget!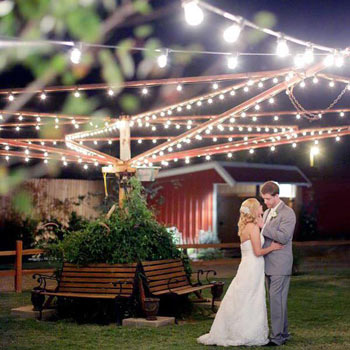 Five of our ten acres is dedicated to our Bed & Breakfast, Weddings and Events. Bill and Eva have created the perfect garden setting for your wedding. The custom, one of a kind, Pavilion presents a panaramic view of our Champion Arabian Horses grazing our pastureland. Your guests will delight in the outdoor experience of our gardens and courtyard area and have the freedom to roam our beautiful grounds in addition to the divine experience that the bride and groom will receive.
A short 5 minute drive from Tyler, Centaur Arabian Farms offers country privacy within 10 acres of pastoral land . Located 2 hours east of Dallas and 2 hours west of Shreveport, our B&B and event facility is warm and comfortable and lovingly decorated which compliments the spacious beautifully landscaped grounds. A renovated 13-stall barn with attached 1600-square-foot additional space provides the perfect facility for the rustic, country or elegant wedding of your dreams.
To have a wedding unlike any other in a gorgeous, unique, & private location contact us now! Who can fight the idea of having stunning Arabian Horses in the background of your wedding pictures!
---