PATH: local families helping local families in need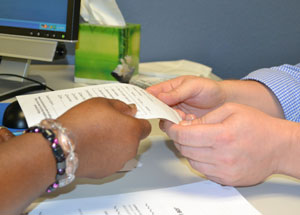 PATH is a faith-based social services agency addressing poverty in Smith County, Texas. PATH stands for People Attempting to Help. Our grassroots organization started in 1985 in Tyler and helps people struggling with life's most basic needs—those who have lived in multigenerational poverty and want to become self-sufficient and those who are experiencing poverty for the first time and just need a helping hand.
Annually, thousands of families in Smith County benefit from the support given to PATH. Help from PATH is available by calling 903.597.PATH (7284) or by visiting our offices located at 402 West Front Street. Let us know more about your specific need. We're open Monday-Friday from 8:30 a.m. to 4:30 p.m.
PATH is funded by the local community. Most funding comes from individuals and family foundations, congregations and grants.
At PATH, we realize that circumstances change. And we know that everyone can go through hardships. That's why we're here offering a helping hand to those in need. Join us! Whether it's monetary, items or your time, helping is easy. Please donate today.
---