History of the Phoenix Building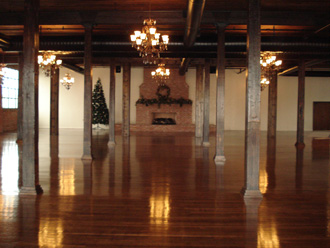 For many years Waco has needed a large capacity ballroom in the downtown district, which would have sufficient parking, and offer an atmosphere and ambiance which could make any reception or wedding, an event which would be extraordinary.
Before it was the Phoenix Ballroom, the building was best known as the Austin Crawford Manufacturing Co. The company was successful for many years producing bags for cotton picking, conveyer belts, tarps, and awnings. During both world wars the company produced many of the canvas goods used by the military such as tarps, tents, and truck covers. Later the building was occupied by a saddle manufacturing company. During the 1970s there was a major fire which caused extensive damage to the interior of the building. Repairs were made and the building then became the home of the original "Spirit Shop" which was a pioneer in silk screened t-shirts. After the Spirit Shop moved, the building was left unused until April 2007 when it was acquired with the purpose of molding it into an event space.
Taking its name from the story of the phoenix, the bird that rose from the ashes of fire, The Phoenix Ballroom was remade and remodeled to become the beautiful event space that it is today. Since opening in January 2009, the Phoenix Ballroom proudly plays host to a variety of special events including weddings, receptions, banquets, corporate events, and fundraisers.
Contact Us • Testimonials • See Our Packages Here



---