Wanna turn your customers' love into votes? We're here to help with tons of stuff you can use to get votes and let your customers know how much you appreciate their support.
Send them an email, post it to Facebook and your web site, tweet it, put it in your newsletter or ad. Use it whenever and wherever you communicate with your customers. Do it often! Put a poster up in a high traffic area. We want the locals to vote just as much as you do!
Why vote? It's easy!
Return the favor! We love you too!
Help guide others find the best places in town!
Stop the uncertainty of who is the best, let the locals choose
Don't be taken advantage of by unfair advertising, let the vote decide. Help out today!
Locals Love Us voting data is secure and trustworthy and hand delivered to you from your friends and families.
Employees can vote. Customers can vote. So, just get out and start promoting the vote!
Change City/Market:
Ways to promote the vote:
---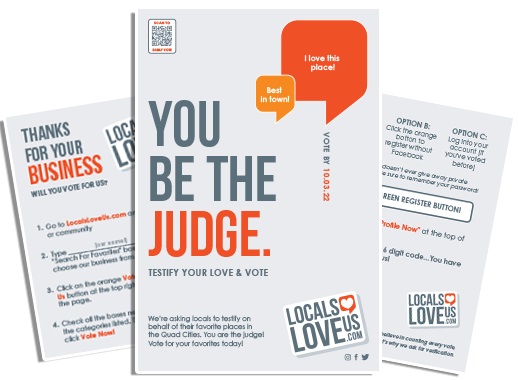 One way to make sure your customers know about the contest is to put up some campaign materials, asking for their vote. If you'd like some, just email us your name, business name and address, so we can stop by with some stuff for you to choose from. It's free, really. No strings attached. We just want to make sure everyone gets a chance to vote.
---
Example #1 - (Use one of the images below)
Match locals like you with the best businesses in town! Vote for us as your favorite at https://LocalsLoveUs.com!
Example #2 - (Use one of the images below)
Take a few seconds to vote us YOUR Local Best at https://LocalsLoveUs.com. Locals Love Us is your trusted guide to your Local Best, and we want to be voted YOUR local favorite!
Example #3 - (Use one of the images below)
No more blind dates with bad businesses. Vote for us, so locals can find their perfect match! https://LocalsLoveUs.com
Example #4 - (Use one of the images below)
It's not always easy for locals to find the best businesses. Help match locals with us by voting at https://LocalsLoveUs.com
Example #5 - (Use one of the images below)
Vote for us now at https://LocalsLoveUs.com and guide others to the BEST in ________.
Examples of catcy subject lines:
Locals Love Us Competition Ends Soon!!
We Need Your Vote!!
Help Others Find Us Too! Vote Today!
---
Some include a message and others are intended to be used along with a written message. Download and use as you wish.