AT EXPRESS EMPLOYMENT PROFESSIONALS, SERVICE IS OUR MIDDLE NAME!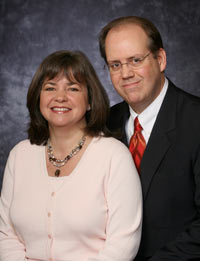 Rocky Gill opened the Tyler Express office in November 1995 with one other person. His goal was and is to provide the best staffing services available to our clients in East Texas. The Tyler office has been honored as a Circle of Excellence office every year since 1998. The last several years, the Tyler office has been included in the Chairman's Club, recognizing the top 10 offices out of nearly 600.
Rocky and his wife, Carrie, have been invested in the Tyler community for many years. Rocky graduated with a Bachelor's degree in Accounting. He started out working for Squyres, Johnson, Squyres & Co., becoming a Senior Accountant before leaving to go to work for one of their clients, East Texas Medical Center (ETMC). He served as Corporate Controller, with accounting responsibilities for most of the entities in the multi-hospital chain. He left ETMC to open the Tyler franchise of Express in 1995.
Carrie began her career after earning a teaching degree from Baylor University. She was an elementary teacher with the Tyler Independent School District for several years before leaving to give her full attention to their two daughters, Hannah and Campbell.
The Gills have served on the boards of various organizations in Tyler including Junior Achievement, Children's Village, Rose City Kiwanis, Tyler Area Chamber of Commerce, Tyler YMCA, Workforce Solutions East Texas, and United Way of Tyler/Smith County.
Most recently, their charitable focus has included orphaned children through their service with Hope for 100, a program initiated by their church (Green Acres Baptist Church) in which more than 100 children have been placed into Christian homes.
The Gills are passionate about making difference in the lives of people. It is this passion which fuels their work with Express. "Most people don't call on Express because they want to; they have a need – either for a person to work in their business or a job! Because we meet up with people who are desperate for help, we view our work from the standpoint of a servant. We want to make things better for our clients and associates. Service is our middle name!"
Rocky attributes his office's success to the team that works at this office. Since they started in 1995, Express Tyler has placed over 20,000 people in jobs. Express offers commercial/industrial associates. They also offer HR resources, custom training services and temporary assignment solutions.

---