Service in the name of Jesus
"But what is the use of preaching the Gospel to men whose whole attention is concentrated upon a mad, desperate struggle to keep themselves alive?" -William Booth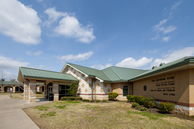 Service is what we are all about at The Salvation Army-service in the name of Jesus and with the purpose of satisfying the body so that there is room for the satisfaction of the soul. From the young and innocent child to the wretched dependent on drugs, we at The Salvation Army seek to find and draw out the Divine in each one of us. We aim to make way for the Holy Spirit to fill our brothers and sisters and be a model of love, compassion, and charity for our community.
The Salvation Army offers assistance to those in need through many forms. Our Social Service office offers rent, utility, clothing, furniture, and medication assistance. For those who find themselves suddenly homeless, our Center of Hope lodge provides emergency shelter and a place to find refuge from inclement weather. Our kitchen serves 7,000 meals a week to residents and non-residents alike to help fight hunger in Smith County. For residents needing more than just emergency shelter, we offer two programs to help them get back on their feet. We offer a work program which helps residents with child care and job hunting assistance to get them back on the path to self-sufficiency. Our other program is for drug and alcohol addiction called ReConnect where qualified professionals help those in need overcome their addiction.
In the area of prevention and development, The Salvation Army has an after-school program for children in grades K-5. This program helps children with homework and reading and math skills along with enrichment activities such as music lessons and basketball drills. The Family Store provides quality items at affordable prices. Family Store vouchers are offered to those in need, free of charge.
Our church services, led by Majors Ben and Doris Lawrence, are held Sunday mornings from 10-12:15 and Wednesday evenings from 6-7:30.
---