Where the Action Never Stops
Thunder Road, 2902 Thunder Road in Fargo, has been providing summer entertainment for families since 2001. The amusement park began with a 1,000-foot go-kart track and two 18-hole miniature golf courses. Even kids too young to completely understand the game, love to carry their little putters and chase the brightly colored ball to the hole.
After the park's first summer, additions were made, including bumper cars, baseball [batting cages], another 18-hole miniature golf course and softball batting cages and a video arcade. The facility is also capable of hosting birthday or corporate parties. Dan and Nancy Isom traveled around the nation for 10 years building the same type of park in other cities before designing, building, and finally owning the local family fun park.
Now, the couple who built Thunder Road from the bottom up says their favorite part is providing a venue for families to spend quality time together. "It's not like going to a movie with your family," Dan explained. "At the movie, you sit in the dark and look at a screen. When it's done you can discuss the movie, but you come to Thunder Road, you're a family unit playing miniature golf together. Even on the go-kart track, you've got your kid right next to you in the kart or you've got dad and his son side-by-side racing, looking at each other. It's pretty exciting."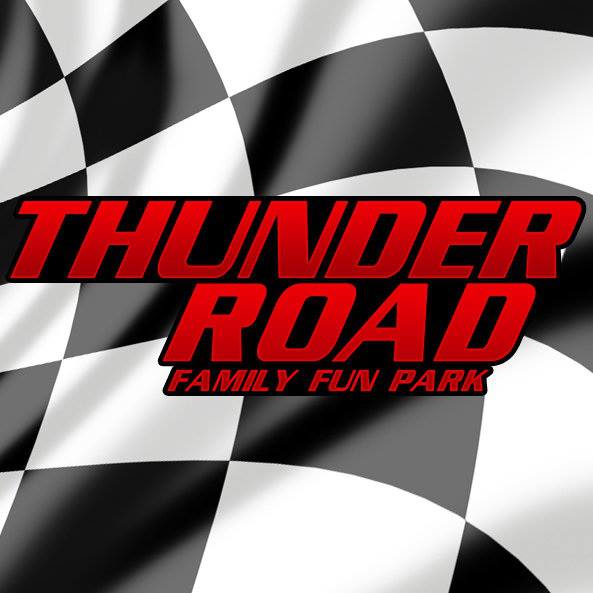 The owners are proud to offer a clean, friendly environment for families for the Fargo-Moorhead community and surrounding cities. Dan and Nancy are considering the addition of an oval track to the amusement park soon. The amusement park is open May through September.
Mini Golf
Two unique 18-hole miniature golf courses, both playing up around the volcano, with ponds, rivers and waterfalls. You can have a relaxing round of golf or play competitive style complete with score cards.
Go Karts
Our 1100' track with 36 go-karts, has 9 exciting turns. We have 28 single karts and 8 double karts, so you can race with your buddies or take your kid for a ride. Drive side-by-side, wheel-to-wheel, this is real racing.
Batting Cages
The batting cages feature 6 stalls: 3 Slow-pitch Softball, 3 Baseball (1 slow, 1 medium, and 1 fast). The cages are also fully lit to allow for batting at anytime during normal business hours.
Bumper Cars
A hybrid of the classic carnival ride and bumper boats, there are up to 10 bumper cars for the whole family to enjoy.
Arcade
Open anytime during normal business hours for your playing pleasure.
Lazer Tag
This 5,000 square foot multi-level Lazer Tag arena is set in a post-apocalyptic world. Prices and more information can be found on their Website, www.thunderroadfargo.com.
---