We're building the best mattresses in the world!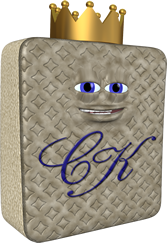 Yes it's a bold statement, but we genuinely believe that we have the best mattresses in the world and we'd like to invite you to check them out. Our mattresses are built using the finest components in the industry, while giving you world-class service.
Comfort King was started by two entrepreneurs – Chris Larson & Randall Dolter – in 1994 in Sioux Falls, SD. Their vision involved designing & selling directly to the end-user a hand-crafted mattress, for a lower price than the traditional retailers, while offering an innovative level of long-term service.
In 1997, Comfort king opened their second location in Fargo, ND.
Now that we have moved into our new location in Fargo (Nov 2007), Comfort Kingowns the property & buildings in both of our markets, which is a testament to #1 our commitment to this industry & #2 the financial stability of our company.
Thank you! to all of our patrons over the past years. Without your trust and wise choice to purchase our quality product, we would not be here today.

---