Knock, knock. Who's there? All Seasons.
When the US Government, hospitals, office buildings, high-end condominiums or your local home builder need the highest quality windows & doors ...guess who's door they knock on?
- Imagine an 8 year old boy starting a career he would still be following over four decades later.
- Imagine a manufacturing company that produces a product 30 times more air-tight than the industry standard.
- Imagine those products finding their way into the prestigious, twin signature 40-story Yacht Harbor Towers in Honolulu, providing the most pristine and prime views of the Pacific Ocean.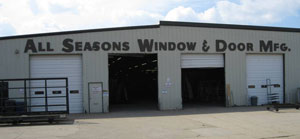 Then again, why imagine... when the company and its products have been known to East Texans for 32 years?
All Seasons Windows & Doors started manufacturing some of America's top rated windows and doors on October 28, 1979. But the story of All Seasons starts way before 1979. It goes all the way back to 1960.
At just 8 years old, Bill Akins started working with his father at the PorterLite Manufacturing Company. He had no idea he had already discovered his life's work, before most boys almost twice his age had a paper route.
In those days, Texas window and door companies didn't exactly have the best reputation for quality. In fact, many companies still suffer from the kind of reputations that most entrepreneurs might call embarrassing.
Maybe it was seeing the second rate production and shoddy workmanship that those companies encouraged in order to ship faster, cheaper windows and doors that first agitated young Bill.
Perhaps the idea of doing something right the first time was instilled by his parents, or hearing the complaints of people who received those substandard products caused Bill to want to take charge and innovate.
Or it could be, that his staunch all-American pride and belief in the nation's free enterprise system drove young Bill to envision something better.
Whatever the cause, the effect is a company producing superior quality, high-end, prime windows and doors for residential, commercial and industrial use by builders, developers and, yes... even the United States Government.
All Seasons began making storm windows in 1979, and quickly added replacement windows to their product line in 1980. By 1983, All Seasons had built the first 33,000 square feet of manufacturing space in Longview and started distributing prime windows for new construction that same year.
By 1985, those new construction windows that had been simply distributed by All Seasons, where being produced by All Seasons... to be followed by storm doors in 1986 and entry doors in 1990.
1990 was also the same year All Seasons began producing quality heavy commercial windows and doors for high end hotels and chains as Hyatt, Hilton and Sheraton.
All Seasons went heavy into commercial production with the purchase of the former Reliant Commercial Division in Bryan, Texas on 2, 1999. Reliant had manufactured heavy commercial window products with worldwide sales for over 51 years.
On June 12, 2000 the expanding lineup grew with the addition of 60 year old Dunaway Supply, a builder of entry and interior doors.
May 2001 saw the addition of a 45,000 square foot Commercial Division manufacturing building in Bryan,Texas.
Growth and acquisitions, new products and additional designs... all continue today. Currently, All Seasons Windows & Doors boasts 104,000 square feet of manufacturing space in the Longview operation, along with a total of 66,000 square feet in the Bryan plant.
The broad array of products available is one of the largest in the industry:
heavy commercial, light commercial, premium residential and even blast resistant products for military use.
From single glazed to one-inch insulated glass, powder coat painted, anodized, argon gas-filled, thermally broken, STC (sound transmission reduction) rated... if needed in the construction industry, you'll most likely find All Seasons producing it in volume. New construction, retro-fit, custom shapes, special trim, custom finishes or color matches. The flexibility offered is virtually limitless.
But despite all the options, any buyer of windows or doors, whether for homes or commercial buildings is going to want to base their decision on the performance those products offer. This is where the experience and technologically advanced products of the All Seasons professionals really shines.

---