About the Bares Team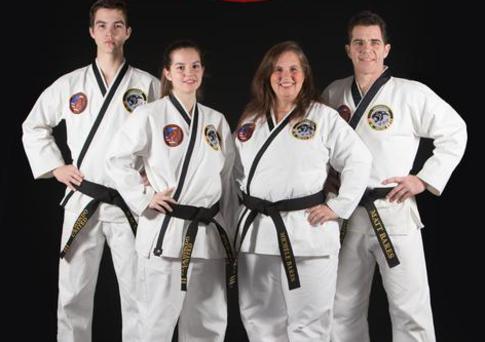 Matt Bares began training in 1991 in Beaumont, Tx. By the end of his second year of training, he had earned his Decided 1st Degree Black Belt, been appointed Chief Instructor of the Lumberton, Tx. facility, and become a Senior Certified Instructor. In 1999 he moved to Tyler, Tx., and worked as an Instructor and Manager at TaeKwonDo Plus. From 2006 to present he has owned and operated Matt Bares TaeKwonDo, and is a Fourth Degree Decided Black Belt.
Michele Bares began training in TaeKwonDo in Beaumont, Tx. in 1985.
A fierce competitor since White Belt, she has earned countless Gold medals, and a reputation as a true "Warrior Princess".
Though she teaches regularly, her main focus is on maintaining a friendly and inviting environment for students and their family members.
Mrs. Bares is a Third Degree Black Belt and Certified Instructor, and is in charge of administrative operations of the school.
Sage Bares, 22, was kicking before she was walking, but began her formal training at age 4. She has been a tough tournament competitor since she was 5, and due to her abilities and attitude, earned the respect and admiration of her fellow students and Instructors that continues to this day. Miss Bares is a Senior Second Degree Black Belt and a Certified Instructor. She teaches in Cubs and Junior classes, as well as assisting in the administrative operations of the school.
20 year old Race Bares began his training at age four in Tyler, Tx. He was the first student to go from Cub to Black Belt, and that dedication to training has led to rarely earning less than Gold in tournament competition. Mr. Bares is a Fourth Degree Black Belt, a Senior Certified Instructor, and a decorated Boy Scout. Race teaches in Cubs, Juniors and Adult classes, and is a great role model to all those he leads.
---