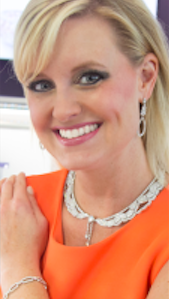 Julie Brogoitti Woods is the Broker/Owner of Julie Woods and Associates Real Estate Firm. She is a lifelong resident of East Texas (minus 10 years) and has cultivated a deep love for the area. She graduated from Kilgore High School in 1996 and Stephen F. Austin State University with a BBA in Finance in 1999. She and her husband, Quentin, then moved to Dallas where she worked as a recruiter for Stephen F. Austin for 2 years. Julie then began working for Clark Consulting specializing as a benefits and compensation consultant for highly compensated executives. Working at Clark Consulting proved to be a seamless fit for Julie as her attention to detail and excellence was critical. Julie loved her time at Clark Consulting, but as she became pregnant with her first child, the decision was made that she should move closer to home.
In 2005, Julie moved back to Kilgore to partner with her father and brother in Brogoitti Construction, a custom residential and commercial construction business. As the company continued to grow, the need for a real estate division became apparent. Brogoitti Construction was a partner in the forming of another local real estate brokerage and then Julie decided it was time to start her own firm – Julie Woods and Associates Real Estate Firm.

Julie Woods and Associates Real Estate Firm was founded with the intent on treating people the way we would want to be treated – and our standards are pretty high. We want to serve you in such a way that the we are the first firm you think of when it pertains to real estate. In order to constantly refine the way we do business, Julie participates in real estate coaching from Buffini and Company. She has furthered her education to a high level and is even recognized as a Certified Mentor from Buffini and Company.

In addition, to serving her clients, Julie enjoys planning vacations to the beach and the best place on earth – Walt Disney World. She also enjoys planning parties for just about any occasion, making gluten free food for her family and scrapbooking. The best part of Julie's day is spending time with her husband, Dr. Quentin Woods and three children, Elle, Brynn and Grant. Julie has served or is currently serving our community through the following Boards and Associations:
University of Texas - Longview, Board Member
American Heart Association's Go Red for Women – Chair, 2016
Neal McCoy's East Texas Angel Network - Board Member
Artsview Children's Theatre – Board Member
Junior Achievement – Board Member
Longview Ballet Theatre Pirouette
Longview Chamber of Commerce
Kilgore Chamber of Commerce – Board Member
Junior League of Longview, Inc. – Board Member
Hudson Pep PTA
Longview ISD PTA Council
Kilgore Boys and Girls Club - Board Member
East Texas Treatment Center
Longview Area Association of Realtors
Texas Association of Realtors
National Association of Realtors
---