Locals that Love Us:
"I thought Jim was just a great guy. Explained things, answered questions and was very knowledgeable and thorough. I really felt confident that he was doing a great job. Thanks!!" - Joi
"Jim Hanson is generous and highly knowledgeable guy. Hanson Home Inspections is top-notch; professional, expedient, knowledgeable, affordable and highly recommended by me. You can't go wrong hiring this team." - Matt
"If you're seeking home inspectors, these guys are it! I felt comfortable immediately and felt that they were definitely on our side by being very detail orientated. Jim was very thorough with his inspection and very honest. He wasn't afraid to point things out and explain details in a simple way, even if they were already simple items to him. His patience, integrity, and enthusiasm would encourage me to recommend his business to anyone. A+" - Mike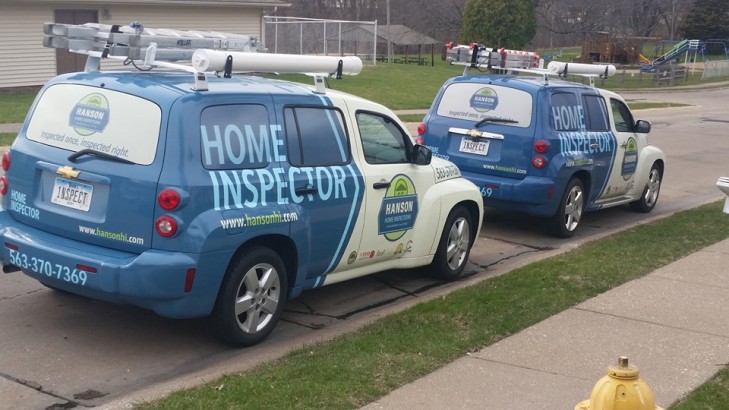 Your best choice for home inspections and radon testing in Eastern Iowa. With Hanson Home Inspections you get Way More Than Just A Home Inspection!
Whole Home Inspections
A whole home inspection is a thorough examination of the major components that combine to form the structural support and working systems in a home. The certified inspectors at Hanson Home Inspections follow the InterNACHI standards of practice and are trained to provide a non-invasive examination of a home's structure, systems and components. Our inspections include, at the minimum, the following components:
Roof & Roof Penetrations​​
Chimney
Gutters, Flashing & Drainage
​​Exterior Cladding
Decks & Porches​​​
Foundation
Driveway & Sidewalks​​​
Garage
Doors & Windows​​​ Attic
Basement/Crawlspace​​​
Insulation
Floors, Walls & Ceilings ​​​
Fireplace Damper, Door & Hearth
Bathrooms
​​​​Kitchen Appliances
Ventilation​​​​
HVAC Systems
Plumbing System
​​​Electrical System
At no additional charge, our home inspections also include:
RecallChek – A reliable system to check for dangerous flaws with home appliances.
90 Day Warranty Plus - A 90 day limited structural and mechanical warranty.
SewerGard - A 90 day warranty covering failure of underground sewer and water lines.
Roof Protection - 5 year roof leak protection.
Mold Safe - Covers remediation for up to 90 days on any mold not present at the inspection.
Home Owners Resource - Free technical support for all your home related questions.
Full Concierge Service - Includes utility setup, phone, TV, internet, alarms and more.
Home Buyers
A whole home inspection for buyers will significantly reduce your anxiety by arming you with the knowledge you need to make an informed home buying decision. Buyers are encouraged to attend the inspection, ask questions and learn about their new home. Inspection reports are delivered the same day and we're always available after the inspection if you have additional questions.
Home Sellers
A prelisting seller inspection is the exact same inspection that would be performed for a buyer. There are several advantages of having your home inspected prior to listing it. A seller inspection will alert you to defects or problems with your home so that you can address them before prospective buyers discover them. You can then take the time you need to make corrections or obtain reasonable repair estimates. A seller inspection will show prospective buyers that you are dealing in good faith, avoid 11th hour negotiations/delays and can justify your full asking price.
Real Estate Professionals
Your reputation is your most valuable asset. Your clients rely on you to guide them through a complicated and sometimes crazy process. Demonstrate to them that their trust in you is justified by referring them to Hanson Home Inspections. Our team's experience, training and professionalism will deliver the information your clients deserve and you expect.
Thermal Imaging
We use a state of the art infrared (IR) camera that can identify problems that aren't always apparent to the naked eye. An IR camera can help reveal problems such as moisture intrusion, inadequate or absent insulation, electrical hot spots, air leaks in ducts and around doors/windows, structural issues, plumbing leaks and more.
Radon Testing
The EPA encourages anyone who is buying or selling a home to have it tested for radon. In fact, Iowa has the highest percentage of homes with radon levels above the EPA action level of 4.0 pCi/L (picocuries per liter) in the United States. You can schedule a radon test with your home inspection to ensure conditions in your home are acceptable.
---