Dent Relief
DOOR DINGS | MINOR DENTS | HAIL DAMAGE
Dent Relief is owned and operated by Mike Steele who has been removing ugly dents from vehicles since 1999.
Paintless Dent Repair is best used for door dings, golf ball dings, minor creases. Accidents, hail storms and other unfortunate events can cause dents in your vehicle, leading to expensive repair at an auto body shop. Paintless dent repair is a cost effective and quicker alternative to traditional auto body repair.
Mike is the most knowledgeable & skilled in the area in his field. he wants every customer to be completely satisfied with his work and he personally guarantees every job.
Whether you drive 2 wheels or 4 wheels, mike can help you remove many types of unsightly dents!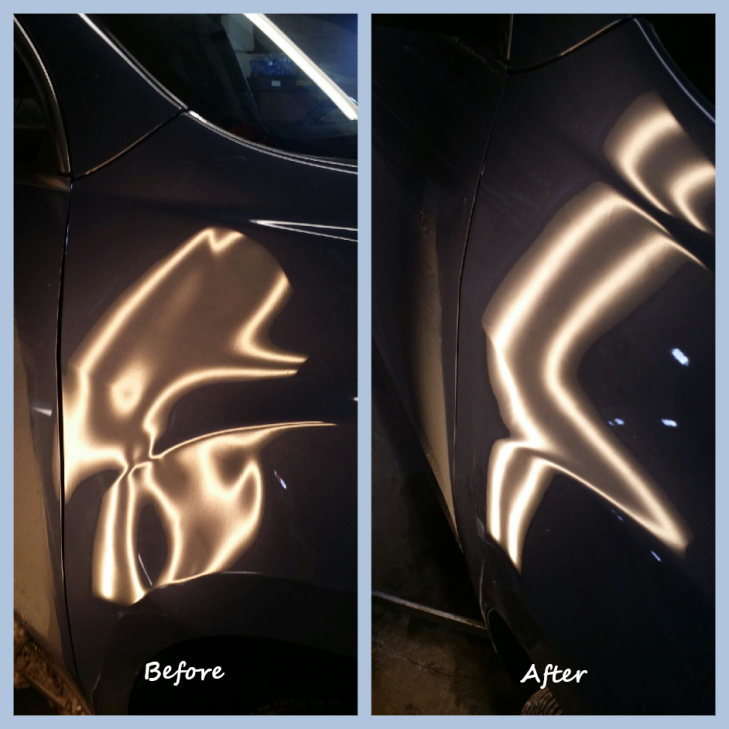 Call 563-355-6303 or stop by the shop and let Mike take a look and give you a free estimate today!
Dent Relief offers prompt dent repair service in the Quad Cities metro area, including Illinois and Iowa. Bring in your damaged vehicle and drive it back home looking as good as new within an hour.
Shop Open
Tues 9:30 am - 5:30 pm
Friday 8:30 am - 5:30 pm
or call for an appointment
What Is Paintless Dent Removal?
Paintless Dent Repair and Removal, or PDR is the art of removing dents and dings from auto panels without the use of fillers and repainting.
PDR is possible due to "memory" in today's auto metals. It is the memory that gives cars their many curves, lines, and aerodynamic features. This memory also makes those unsightly dents and dings we get from parking lots and hail storms.
PDR dent professionals use these physical properties of today's flexible metals to massage the memory back to the way it was. After accessing the backside of the damaged panel, the technician is aided by very graphic lighting, enabling him or her to significantly improve or fully restore the panel to pre-accident condition.
Advantages of Paintless Dent Repair (PDR)
Retain original manufacturer's finish and warranty
Eliminate concerns regarding paint matching
Much faster repair- as little as one hour
Significantly less expensive repair method
No filling, sanding, or grinding of panels
Removal of glass panels and cutting of factory seals is not needed to perform repairs
---