Dedicated To Serving You And Your Family's Needs
When you lose a loved one, you want the personal service and attention from a funeral home that will help you honor their life story. As a family owned and operated business since 1889, Halligan-McCabe-DeVries has been doing just that for families all over the Quad Cities.
This tradition of family dedication is what has set them apart from other funeral homes in the Quad Cities for all these years. It's a tradition they plan to continue as a strong, family-owned business for the community.
The locals love HMD Funeral Home, because everything from their comfortable and spacious facility to their dignified and caring staff and alternate options like cremation services, has been set up to offer personal service to the Quad Cities area.
"They went above and beyond to help us. I am forever grateful."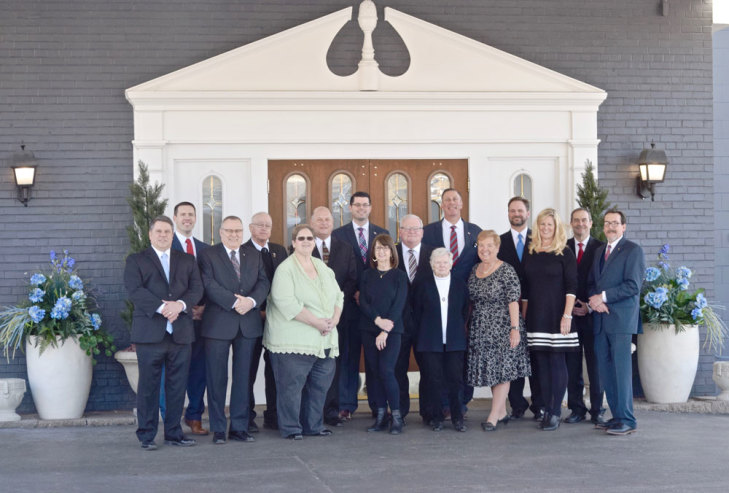 The Halligan Funeral Company was established October 5, 1889 in Davenport by James F. Halligan.

During this time, there were thirteen funeral homes competing for business in the Davenport area. There are currently five funeral homes/mortuaries serving the cities of Davenport and Bettendorf.

In keeping with Halligan's Irish Heritage, most of the funerals and wakes in the early 1900's were held in the homes of the deceased. That is a sharp contrast to today's funerals and visitations. The size and number of people attending visitations and funerals have increased tremendously over the years. This increase in visitation and funeral attendance is why we have added a large chapel and a very spacious visitation room. These are in addition to the beautiful visitation rooms that we already have.

Mr. Halligan saw the need to bring in a "young man" to assume the duties at the funeral home. This man was George McCabe, a Dubuque, Iowa native. He became a partner in the funeral home in 1917.

James Halligan passed away on July 30, 1930. Following his death, his only surviving heir, daughter Marguerite Halligan and George McCabe formed a new partnership - the Halligan Funeral Home, Inc. In 1933,

Urban F. Ott of Chicago, Illinois became George McCabe's partner when he purchased Marguerite's share of the company. She was very reluctant to sell at first, but did so when George offered to keep the Halligan name as part of the business title.

In 1946, George's son, John "Jack" McCabe, became part of the business after attending mortuary school in St. Louis, Missouri. His brother, William "Bill" McCabe, joined the firm ten years later, after completing his mortuary science courses at Worsham College in Chicago, Illinois. Bill was the youngest of the six McCabe children.

George McCabe passed away August 19, 1959. Mr. Ott retired the following year. The two McCabe brothers, Jack and Bill, became co-owners of the funeral home. It was at this time that the McCabe name was added to form the Halligan-McCabe Funeral Home, Inc.

On July 1, 1974, Robert J. "Bob" McCabe, Jack's son, joined the firm. Bob attended St. Thomas College in St. Paul, Minnesota and received his degree in Mortuary Science from the University of Minnesota. Jack McCabe retired January 1, 1987. It was at this time that Bob became a partner. Bill McCabe passed away on July 4, 1997 and Jack passed away on October 26, 2008. Bob McCabe is the current President of the funeral home.

A lifetime Davenport native, K. Daniel "Dan" DeVries joined the firm on October 1, 1987. He attended St. Ambrose University and completed his Mortuary Science degree at Worsham College of Mortuary Science in Chicago, Illinois. Dan became a partner in the business in January of 1993. It was at this time that the DeVries name was added to the business to form the Halligan-McCabe-DeVries Funeral Home. Dan is the current Vice-President of the funeral home.

There are several others who provide extensive help to the families that we serve. They are: Funeral Directors - Tony Malchodi, Craig Stilson, Tom Frandsen and Nick Haut; Funeral Home Assistant-Michael Chupka; Prearrangement Counselor - Caralee Rath; Office Specialists - Theresa White and Cheryl Zeiser; Mt. Calvary/Holy Family Cemetery Office Specialist - Ann Lucas; Greeters - Carole Thomsen and Joan Smith; Hairstylist - Genevieve Alatorre. Without these dedicated individuals, we could not provide the additional support and care needed to assist our families in every aspect of the funeral service.
---