What is Mudjacking?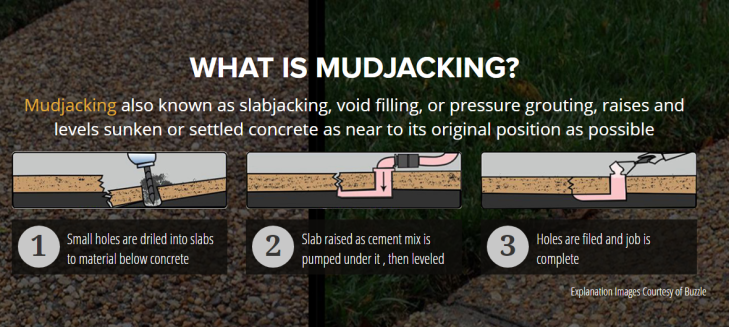 Mudjacking is the process of raising and leveling sunken or settled concrete as near to its original position as possible. Sidewalks, driveways and garage floors can become cracked and unleveled due to factors such as soil erosion, freezing and thawing beneath the slabs, shifts in tectonic plates and other various conditions that cause the ground beneath concrete to settle, sink or otherwise deteriorate. To raise the existing concrete, our team drills a series of 1 inch holes around the fissures and then pumps a slurry material beneath the cracked concrete slab. This process allows us to position the raised concrete correctly and add patching material via the drilled holes between the sunken ground and the existing concrete. Once the patch has hardened, the leveled and realigned concrete will be as stable as the other surrounding slabs.
Mudjacking is an affordable alternative to replacing cracked sidewalks, garage floors, foundations and driveways. The cost of raising settled concrete is approximately 50% less than the cost of replacement.
Our services will save you time as well. Mudjacking projects are usually completed within a single day as opposed to the lengthy process of replacing damaged concrete. It involves considerably less mess and will not disturb your landscaping.
We offer a two year limited warranty on all concrete raising and leveling services along with crack sealing services to ensure the longevity of your mudjacking project.
Whether you have damaged driveways, sidewalks, pool decks, basement or garage floors, concrete stairways or foundations, one phone call to M&S Mudjacking will provide you with a quick, affordable and effective fix to any concrete problem. We also do basement waterproofing! Schedule your consultation today! 309-373-2919
Locals Love Us!
"I couldn't have asked for anything better, very satisfied, turned out perfect. Matt and his employee did the job right and didn't leave until it was perfect. I know it will last!" - Gregg
"Matt was wonderful to work with and we would definitely recommend him. He was prompt, professional, and the bid was extremely accurate. He took care of our needs around business hours and was very friendly and personable." - Adami Insurance Agency
"I cannot say enough about how pleased we are with the way our driveway, step and sidewalk turned out. Matt is one of the hardest working, most professional contractors I have ever worked with!" - Ron
"Matt with M&S Mudjackjng stopped by my home for a free estimate and let me just say this is the only mudjackjng company you should hire. His level of honesty and expertise exceeded all expectations. It's no wonder these guys stay busy!" - Matt
"Highly recommend!! Matt and his crew Installed basement beams and mudjacked sidewalks to fix water issues. All work procedures were well explained, workers were pleasant, job site clean up was great. Basement walls are secured and sidewalks are all fixed. All in all they did an excellent job. Very professional! Happy customer here." - Theresa
---