A New Era In Quad Cities Baseball Has Blossomed.
In December of 2007, the Midwest League franchise that had been known as the Swing of the Quad Cities (2004-07) announced the overwhelming results of a Name the Team contest, once again giving baseball in the Quad Cities the name the community has come to love.
River Bandits.
Since, baseball in the Quad Cities has seen an emphatic resurgence. In 2008, a host of improvements to Modern Woodmen Park and a renewed dedication to guest experience and customer service led to a surge in attendance that rose above 200,000 for the first time in a dozen years. Baseball at Modern Woodmen Park continued to soar in 2009, as total attendance ballooned to 234,401 for an average of 3,694 fans per game. Both figures were the franchise's highest since 1995, and the average attendance was the third highest of all time. Over the two-year span, the newly rebranded River Bandits saw a 64 percent increase in per-game attendance and a 59 percent increase in total attendance.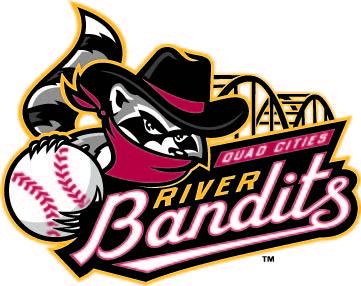 The River Bandits moniker that was brought back in 2008 is one with a rich history in the Quad Cities. The club had originally been called the River Bandits from 1992-2003, a period that in many ways was the gold standard for baseball in the Quad Cities prior to the current administration. The original River Bandits set an attendance record in their first season in 1992 and then broke that mark again in 1994. The three highest single-season total attendance figures in franchise history all came from 1992-1995.
---