Beauty & Wellness Career Training
Tradition of Excellence -- Over 50 years of Legacy and Success.
COSMETOLOGY > ESTHETICS> NAIL TECHNOLOGY > MASSAGE THERAPY
Capri College has been offering passionate students the training needed to pursue rewarding careers in the beauty & wellness industry for over 50 years. Thousands of students have launched creative and fulfilling careers after graduating our Cosmetology, Esthetics, Nail Technology & Massage Therapy programs. We have a family-owned legacy of success, offering you longevity and expertise for real-world success.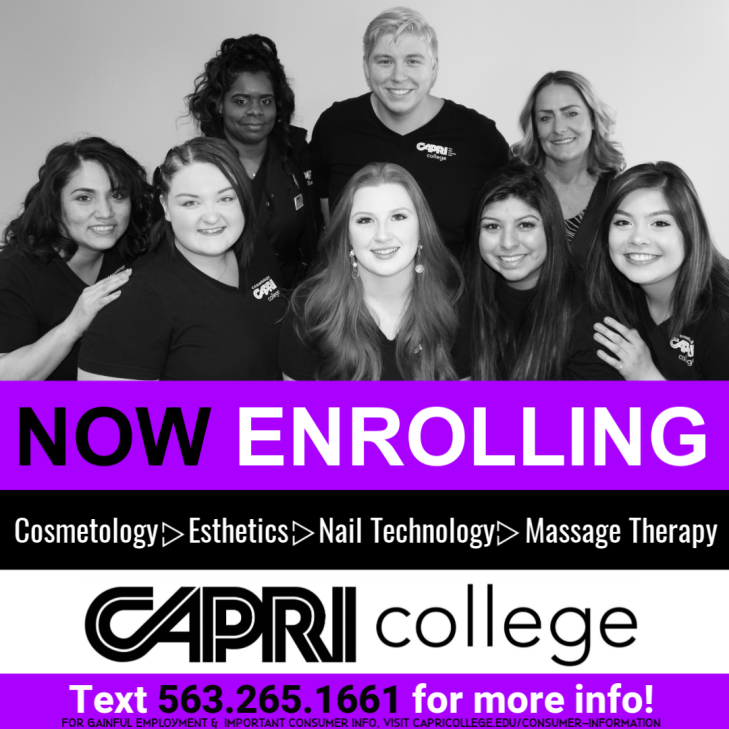 Local salon and spa owners rave about our community reputation and commitment to excellence in education. The hands-on learning approach and attention to business training skills prepare you for the many facets of career success and business ownership.
All classes are specifically designed to benefit you as a beauty or wellness professional. Our curriculum includes no unnecessary courses, allowing affordable tuition costs and shorter program lengths. We're dedicated to helping you achieve your personal career goals!
Attending Capri College, you become part of our Capri family. We value every student as a contributing member of our school and industry. After building up your skills and confidence with classroom and hands-on training, you'll then work with clients in our public salon and spa. Under the guidance of licensed instructors, you'll provide clients with high-quality beauty and wellness services while perfecting your communication and business skills. You'll feel confident and fully prepared to enter the professional world after gaining real-world experience on the clinic floor.
As a family-owned business, we control the direction of program education, and respond quickly to industry changes. This ensures you'll receive the most advanced, cutting edge training to make an impact in today's beauty and wellness industry.
We look forward to having you join the Capri family!
---