Long-Term, Short-Term & Restorative Care
Kahl Home is a nonprofit community that has provided senior housing for the elderly of the Quad Cities since 1955 under the direction of the Carmelite Sisters for the Aged and Infirm.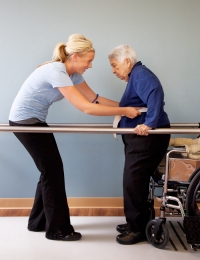 Residents at Kahl Home receive intermediate and skilled nursing from trained, professional staff with love, in a Medicare and Medicaid licensed facility.
At Kahl Home, we believe each individual is special and unique. Therefore we work together to provide loving, quality elder care for the whole person, body, mind and soul. This holistic approach is what sets us apart from other nursing care facilities.
The Kahl Home provides skilled nursing and intermediate levels of care from trained, professional staff with love in a Medicare and Medicaid licensed senior living facility. Some of the services offered are:
24-hour nursing staff
Long-term elderly care
Short-term rehabilitation care
Nursing rehabilitation
Alzheimer and dementia care
Pain management
Hospice and end-of-life care
Dietary and nutritional counseling
Physical, occupational and speech therapies
On-site eye and podiatry clinics
Psychosocial counseling
Individualized and group activities
---