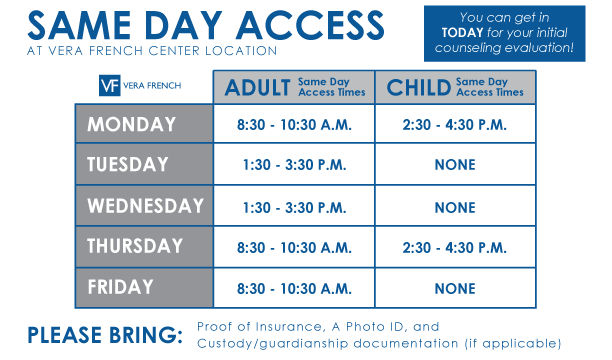 Staying Safe during COVID-19 - Vera French & Telehealth
Vera French wants you to stay safe during this pandemic without sacrificing your mental health. To do this, we will be providing telehealth opportunities for our clients through a video platform called doxy.me.
From the comforts of your own home, you can speak with one of our licensed professionals. All you need is access to a computer with a video camera and microphone. You may also use Android or iOS tablets or smartphones.
Contact Vera French at (563) 383-1900 to set up an appointment. More telehealth information can be found HERE.
The Community's Mental Health Center
For over 70 years, the Vera French Community Mental Health Center has been providing mental health services to the Quad Cities and surrounding areas. What began as the Scott County Mental Health Center in 1949 offering five services, has become a leader in community-based mental health care and currently provides sixteen different services. Through the changes, the mission still stays the same as when Dr. Vera French served as the organization's Director – quality, accessible, and comprehensive mental health care for all in our community.
With a wide variety of services, Vera French strives to help individuals reach their full human potential. Vera French provides therapy, outpatient prescriber services, youth and family services, residential care, housing, and community-based treatment and outreach located at the Carol Center.
How do I get started with mental health services at Vera French?
Getting the right help can be the first step in an important journey to recovery. At Vera French, we recognize that taking that first step can be tough, so we've made our first appointment process as easy as possible. We call it Same Day Access!
Same Day Access means that you can get in TODAY for your initial counseling evaluation. No appointment needed! We have specific times dedicated to people walking into our office at 1441 W. Central Park Avenue in Davenport. Many questions you might have about coming to or bringing a loved one to Same Day Access can be found HERE.
---