That Mysterious Dent
A Sign Your Aging Parents Needs Help
As your parents and grandparents age, they may want and need additional companionship and help around the house.​
Home Instead Senior Care® in Bettendorf, IA offers many different types of in-home care that can be individualized to meet the needs of your family members. Call us at 563-359-0027 for a free consultation to learn how home care can benefit your family.
The Home Instead Senior Care network has been delivering in-home care for more than 20 years. All of our highly trained CAREGiversSM are bonded and insured for your peace of mind. Each CAREGiver completes a comprehensive training program to deliver individualized care with compassion.
What is Home Care?
"Home Care" simply means care that does not involve nursing-type activities such as wound changes. In-home care provides practical support with a human touch. Our compassionate CAREGivers assist elder clients with common activities of daily living like showering, cooking and much more. CAREGiversSM​ even can help with errands and transportation.
Explore the many ways your family members can benefit from in-home care services​. Types of Care We Offer​​:​
Companionship Care ​
Personal Care​ ​
Meals & Nutrition ​
Transportation ​
House​hold Duties ​
Resp​​ite Care ​
Hos​pice Care Support Services ​
24 Hour and Live-I​n Care​
Locals Love Us!
"We had Home Instead for our dad the last few months of his life. We hired them based on another friend's recommendation, and we were happy we listened to that advice. The Home Instead people were kind and thorough. They left detailed notes and communicated with us personally. Dad grew to like several of them very much, and they were equally sad when he passed away. As I live in the Chicago suburbs and my brother lives in New York, we were very dependent on them. They made Dad's last few months as comfortable as it could be, and we will be eternally grateful." - Robin C.
"We were so happy to find Home Instead for my father-in-law since everyone in his family lives out of state. They took care of everything and my father-in- law considered everyone he interacted with on a regular basis a friend. Since he lived alone, it was so nice for him to still feel like he was socializing with friends." Wendy W.
"I was very impressed with the workers from Home Instead. Respectful, responsible, reliable, and very helpful in all ways. Thank you all who made it possible to help when needed." -Rose E.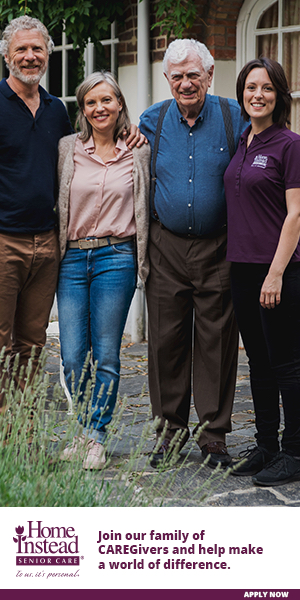 ---