Providing Fargo with the best eye care
20/20 Vision Express carries over 3,000 designer frames and all major brands of contact lenses to keep you looking and seeing your best!
Primary eye exams
Contact lenses
Injured, red, or irritated eyes
Co-management of refractive surgery patients including LASIK and PRK
Co-management of cataract and other post surgical patients
Treatment and management of ocular diseases including glaucoma, diabetic retinopathy and macular degeneration
Treatment and management of eye injuries and diseases
What the Locals are saying:
"The staff and doctors are wonderful. They take time to make me feel comfortable and informed!" - Donna U.
"My wife and I had our eyes checked at 20/20 Vision today. Dr. Jordan was great. The staff service was friendly and caring. Mr. Jeff Lunde provided us with professional recommendations for eyeglass selection. We do highly recommend 20/20 Vision to our community." - Mort S.
"My daughter and I had an amazing experience at 20/20 Vision Express. We did not have an appointment—simply wanted to look at frames. We were warmly welcomed and had outstanding assistance with choosing frames. It was a fun and stress-free experience." - Brandi Z.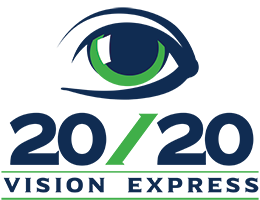 ---