Uncompromising Service, Quality Workmanship
Jim Turner opened his first store, Expressions Jewelers, in summer of 1976. It was a modest size store with an ample work space. He built his client base on the belief that the customer deserves first quality workmanship and exceptional service at fair and reasonable prices. The philosophy worked. Within a little over a year Jim moved into a larger more modern facility in a busier location. Things went well until the early 1980's when economic recession and skyrocketing precious metal and gemstone prices forced him to make a mid-course correction. Jim moved his store to a downtown Davenport location on the sixth floor of an office building. There he built a salon style retail business while performing manufacturing and repair to the trade. This move was a blessing in disguise. It gave Jim the opportunity and experience to improve his skills as a bench jeweler and train a staff to understand the importance of personal service to the customer while providing the ultimate in quality workmanship.
1983 brought yet another move to a larger store and workshop. This was in the Village of East Davenport. In 1992 he was joined, in partnership, by Roger Peet, a gemologist with 35 years of retail jewelry experience. Roger, a natural educator, brought with him knowledge of diamonds and gemstones and credentials from both the Gemological Institute of America (GIA) and the American Gem Society (AGS). These are the two most prestigious organizations within the jewelry industry. The marriage is a good one as Roger & Jim share the idea of devotion to excellent quality and uncompromising service for their clientele.
Today, they continue that belief and tradition at their newest location, 1913 East Locust Street in Davenport where can be seen examples of some of the most beautiful jewelry from some of the finest jewelry makers in the world as well as lovely custom and one-of-a-kind designs from their own shop
Where quality and craftsmanship are the number one priority in creating custom fine jewelry. Expressions Jewelers is comprised of a team of experienced jewelers that are eager to bring your jewelry creation to life.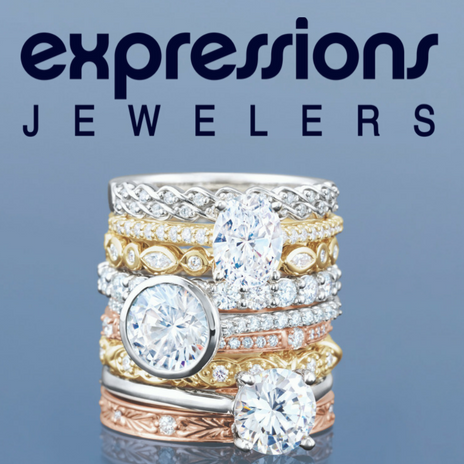 Store Hours
Tuesday: 9AM to 5PM
Wednesday: 9AM to 5PM
Thursday: 9AM to 6PM
Friday: 9AM to 5PM
Saturday: 9 AM to 2 PM
Sunday & Monday Closed
---