Circa 21 is more than a show, it's an experience!
Circa '21 is housed in the historic Fort Armstrong Theatre. Opened in 1921, the theatre was originally a vaudeville and silent movie house, among one of the most popular and unique of its day.
Walter Rosenfield and Joseph Hopp were the two men who invested their time and money in the theatre stating that they had faith, not only in the film industry, but in the area that eventually was to become the Quad Cities. The $500,000 cost of the theatre's construction was said to represent one dollar for every brick used in the exterior structure, an enormous sum in its day. Architect Benjamin Horn drew heavily from Fox and Sauk Indian symbols for his design. (A fine example is the great warrior Blackhawk's countenance overlooking the stage from the proscenium arch).
The theatre originally contained a 1,566 seat auditorium, a dance salon, a photography studio, Hickey Brothers Cigar Store and Soda Fountain (located where The Garden Shop is today), a nursery, and attractive green rooms for the actors.
The Fort Armstrong remained a movie theatre for the next 55 years, with each successive operator adding individual touches to modernize the building. Yet, over the years as the film industry became more competitive, the older, more grandiose movie houses, burdened with high overhead expenses and skyrocketing utilities, soon were unable to keep up with the sleek new mall theatres. Slumps in ticket sales pushed the theatre even closer to closing its doors forever.
In August of 1976, the theatre was purchased for its present use as a dinner theatre. The interior was remodeled into Las Vegas styled seating and currently seats 334 on the main floor.
After extensive remodeling, Circa '21 Dinner Playhouse opened in June of 1977 as the Quad Cities' professional theatre. In 1978, following the opening of Circa '21, the Fort Armstrong Theatre was listed on the National Register of Historic Places.
The concept of dinner theatre was unique to the Quad Cities at the time and has since provided the area with over 250 productions of comedies, dramas, musicals, mysteries, children's shows and celebrity attractions such as Tony Bennett, Mickey Rooney, Phyllis Diller, Pat Boone, The Smothers Brothers, The Lettermen, Dennis Miller, and Roseanne.
In 2001, the historic theatre underwent a $225,000 renovation in conjuction with the start of its 25th Anniversary Season. The renovations included repainting the entire interior of the theatre; renovation of the restrooms; recarpeting the entire theatre; and a new marquee, which is a replica of the original from 1920.
The actors and artistic staff at Circa '21 hail from all parts of the country. Semi-annual auditions are held in New York and other major metropolitan areas. In addition, local auditions are held for every show.
It is our hope that you enjoy your visit in the beautiful surroundings and elegant atmosphere in which we proudly serve you here at Circa '21.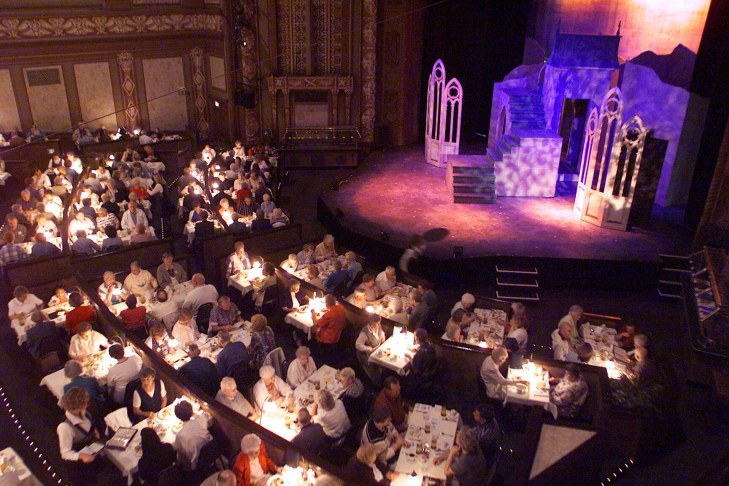 ---