Regent Care Center, WOODWAY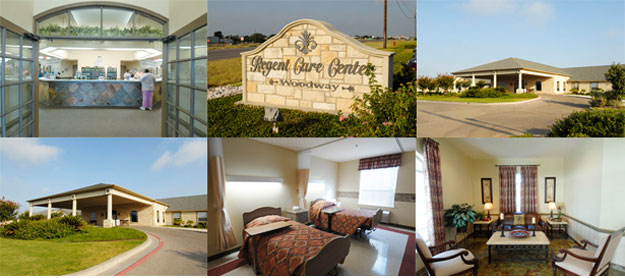 Our Mission:
Our mission at each Regent Care Center facility is to provide quality care and life in a warm, beautiful and luxurious setting for our residents and their families, a safe environment that offers personal and professional growth for our associates, and a prudent fiscal plan.
Regent Care Center at Woodway provides several types of services including:
Medical Services
Specialized Services
Rehabilitation Services
Special Accommodations
Pre-Discharge Panning
Admissions seven days a week
Our team of healthcare professions are dedicated to designing your plan of care so you can get well soon and return home. All team members are well qualified and have exceptional expertise in their fields. Our Medical Director and your private physician work together to make sure the team coordinates the best care available. Our continuous quality improvement programs ensure that special needs are met quickly, efficiently, and with great expertise. Rehabilitation services are the hallmark of every Regent Care Center. Our daily activities and social events are varied, stimulating, and suited to each individual's preference. Our customer service program underscores our philosophy that our resident care is priority. We take a proactive approach to making each and every resident's needs and wants a reality. We are dedicated to doing whatever it takes, because our customer's always come first.
Sub-Acute
Sub-acute nursing is the highest and most intense level of care offered. This level of care provides for all those requiring daily skilled nursing or rehabilitation services that can only be provided in a skilled nursing center. All care is under 24 hour direct supervision of a licensed nurse and close physician contact is maintained.
Essential Nursing Care
Essential nursing care is intended for those residents who need some nursing care, yet do not need the intensity of care offered in the Sub-Acute. In addition to appropriate nursing care, special assistance is there whenever it is needed.
Respite Care
Respite care is nursing care available for short-term stays.
---