Message from our director
Ridgecrest is more than a retirement community; it is a Continuing Care Retirement Center. What this means to you is, we can accommodate the level of care that best suits your needs. With a beautiful property landscaped with large oak trees and rooms with luxurious accommodations, we want you to feel like you are at home when you join our family. Ridgecrest offers spacious apartments to our Independent Living residents and a variety of different sized residential suites to our residents who require more assistance in our Assisted Living. The Skilled Nursing Center offers private and semi-private rooms where nurses are available 24 hours a day to assist you. Whether you need Rehabilitation to get you back on your feet or need Long Term nursing care, here at Ridgecrest Retirement Community we can help. As the Administrator, I can assure you that at Ridgecrest we hire compassionate people who care for others. A smile will greet you at the door, and you will feel comfortable knowing you can reach a member of the staff 24 hours a day if you have a concern. We encourage you to stop by for a cup of coffee and take a look around. Start living your new lifestyle at Ridgecrest!
-James Boswell
Administrator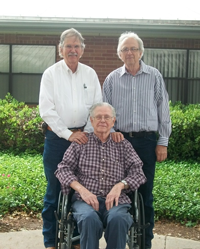 "Our dad came to Ridgecrest in 2007, and since that time, we have deeply appreciated the excellent care he has received. While we know that no retirement community can take the place of home, the loving and caring professionals at Ridgecrest do their best to make sure he feels at home everyday. For that we are truly grateful."

Ridgecrest Retirement and Healthcare Community is recognized for top quality care. Read the article here.

---