About Us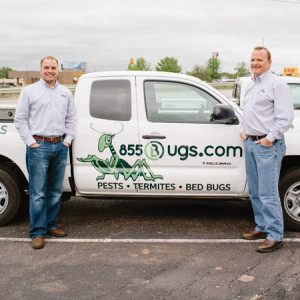 We believe in local business. That means that we shop local, serve local, live local, give local. At 855bugs.com we believe that living local means valuing our customers' homes as well as their businesses. It is important to support the retailers and other services of our community.
We also believe in doing the right thing the right way. We welcome accountability. Daily, we raise the bar on ourselves.
Our customers love the fact that their pest control company is just a local call away to take care of their needs whether it is bed bugs, termites or any other pest. 855bugs.com is here to take care of you.
855bugs.com values the relationship we have with our customers. This includes your family and pets, your time, money, environment and home. We are committed to serve you by protecting your health and your assets.
By building this type of relationship we know that we are contributing to our community and building a better life.
Our commitment to our customers is unrivaled, which is why we're the number one pest-control company in Central Texas according to the readers of the Wacoan, and the voters on LocalsLoveUs.com. It's our customer-first perspective that has allowed us to reach the top spot. We live by an 'above the line' philosophy at 855bugs.com. This means that our goal is to exceed expectations, while being guided by the principles of honesty and integrity.
Highly recommended. Professionalism. Prompt. These are the words customers use to describe 855bugs.com.
When Robyn N. wasn't home for her quarterly treatment, her scheduled technician took the initiative to treat the outside of her home. That's the 855bugs.com way. They're aware that their customers lead busy lives, and they work hard to ensure that the service they provide is professional, convenient for their clients, and effective.

"It was such a pleasure to see and visit with Ford again. All of your techs are the best but Ford is, well they just don't come any better in knowledge, efficiency, work ethic and personality. Doing business with your company continues to be a pleasure. Thank you."

"Mark is a most pleasant person. My & wife have been totally pleased with the service, professionalism, willingness and ability to answer any crazy bug question we ever have."
---