Knowledgeable

& Resourceful full service lawn care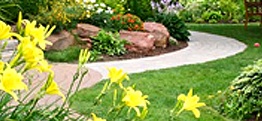 Picture Perfect Lawn and Landscape in Waco, Texas, is a full service lawn care company with the knowledge and resources to care for your landscape design, installation, care, and maintenance. We are licensed and insured for your protection.
In Texas it can be difficult to create, develop and maintain a lawn without the assistance of a capable lawn care service provider who has the expertise and proficient skill in outdoor landscaping and maintenance of lawns.
Your landscape is one of the first impressions that your home or business presents to the public. Your image can impress neighbors,
clients, or even competitors. Whether you want to make-over an existing landscape or start from scratch, we can help you design a plan that fits your budget.
Let Picture Perfect design a lawn care or grounds maintenance package that meets your specific needs, or choose from one of our existing plans for residential or commercial clients.
We also design, install, and repair irrigation systems. Our new systems include a free rain sensor that temporarily turns your system off when it rains. We mount sprinkler heads located in turf areas on flexible hardware that resists breaking when hit by mowers and other equipment.
No matter what your lawn care need, give us a call and see what we can do for you!

---