Why Massage is Important:
Pivotal Pathway Massage Therapy is honored to partner with you in providing your body, mind and spirit wellness and relaxation. Taking care of yourself is imperative for you and your family. Numerous medical studies show massage is a key component in:
Improving Your Circulation
Lowering Blood Pressure
Calming the Central Nervous System
Increasing Levels of Serotonin in the Brain
Triggering Endorphins to Release into the Bloodstream
Boosting the Immune Functions
Clearing Waste from the Lymphatic System
Utilize massage as a tool for your wellness or pain management. Call us today at (254) 205-7767 to make an appointment or book online now.
Massage is mostly effective when you are able to relax your mind and body. If you are worried about the therapist, cleanliness, noise or safety, you will not have a favorable experience or receive the therapy you really needed.
At Pivotal Pathway Massage Therapy, you can expect to meet a non-smoking, licensed, relaxed, kind professional that understands that time is about you. We have a beautiful office and treatment room equipped with soft lighting, music and the sound of water. Our massage table is heated, the sheets are of high quality, the table and space is always sanitized between clients, and we use the purest essential oils available on the market. Best of all, we know how to be quiet during your session.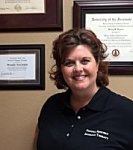 Wendy Noriskin, owner and licensed massage therapist, is skilled in deep tissue but is able to keep it relaxing instead of painful. She listens to your concerns and will utilize her knowledge of anatomy and experience to provide you with relief using a variety of techniques (myofascial release, trigger point, etc). She has a reputation of repeat clients, honesty, professionalism, and accepts referrals regularly from reputable health professionals.

Before becoming a massage therapist, Wendy worked in project management, corporate training and other roles for 15 years within the financial and insurance industry. She has a Master's degree in Organizational Development and Bachelor's in Business Management, as well as numerous professional certifications. She chose massage therapy because she felt a calling to help others find peace and wellness in their daily lives.

Wendy is very familiar with work stress and the toll it can take on the body. Having this perspective sets her apart from most Waco therapists because she understands how to conduct business, but also the kind of stress most people are under at work, because she's been there. It also taught her the importance of customer service, professionalism, and how to make things easier for her clients to do business with her.

We keep up with technology by accepting chips cards, apple pay, etc and try to make scheduling as easy as possible by allowing you to book online. Pivotal Pathway Massage Therapy looks forward to serving you for your wellness and pain management needs for years to come. We are also a member of the following associations:


Waco Chamber of Commerce
Business Networking Integration (BNI)
National Association of Female Executives (NAFE)

License Number: MT122870
---