Shane's Seafood & Bar-B-Q
It's a Louisiana Tradition!
"You need your Boiled Crawfish fix - then come here - its one of the best - if not THE best in Shreveport - end of story. Service is fast and friendly and we were kept well stocked as we were eating." - David
"Their menu has such a variety of food to offer that I'm never "stuck with the same meal" every time I visit. The only thing better than the food is the service! Love this restaurant!" - Dana
"One of the best local places in Shreveport. All the menu items are good but I like the crab cakes and boiled shrimp the best. Great ownership that supports the community." - Jack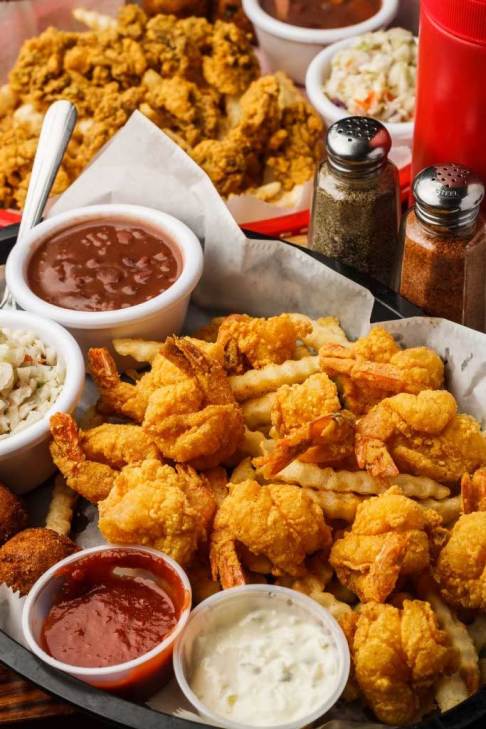 In Louisiana, the locals love to eat Cajun and Creole. And in Shreveport-Bossier, the favorite place to satisfy those cravings is Shane's Seafood and Bar-B-Q. The locals have voted Shane's #1 for Cajun/Creole Food every year. But Shane's has much more. Desirae of Shreveport says, "I have been a loyal customer since they opened. They have expanded the menu over the years to include other things besides seafood, and the fried shrimp is amazing...as well as anything boiled!" Steak, brisket, alligator, chicken...the list goes on.
If you're like Emily and looking for healthy food, Shane's got something for you, too. "One year, I declared a no fried-food-for-a-year New Year's Resolution. That year, any time I went to Shane's, I ate the grilled catfish with corn on the cob. That grilled catfish is no joke. Absolutely delicious," Emily says. Locals in the Shreveport-Bossier area keep the Louisiana tradition alive by eating the delicious southern food at Shane's.
---