Grande employees have helped distribute $3.0 million to the local Texas communities where we live and serve.
Our community involvement is based on our pledge to be here for our customers and communities. As Texans, we take this pledge seriously and strive to make a positive impact by contributing to organizations that help our neighborhoods, children and adults in need, thrive.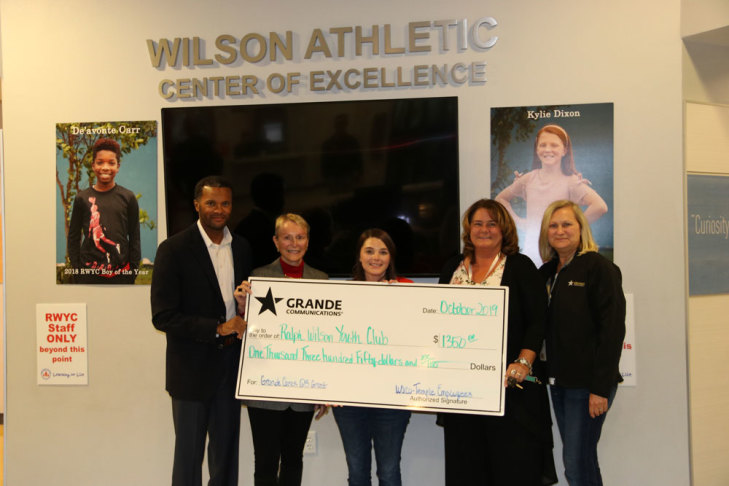 ABOUT GRANDE CARES CLUB
Even before Grande laid the first mile of broadband fiber or sold our first product, our founding leadership team committed to cultivating community relationships. In response to this corporate goal, our employees established Grande Cares as their way to give back. The Grande Cares Club is governed by Grande employees and funded by employee donations. The Grande Community Chest is a 501(c) (3) organization that makes grants of up to $5,000 to non-profit organizations in our business footprint to address the following needs:
* Basic human services-food, clothing, shelter, healthcare and safety
* Education through access to computer technology
* Positive initiatives for at-risk youth
In addition to grants, Grande Cares drives much of Grande's culture of giving through annual company-wide summer food drives and holiday outreach initiatives in each local market. Since the founding of the Club in 2000, we have awarded more than $3.0 million in grants, donated thousands of holiday gifts to those in need and collected tons of food for dozens of food banks and pantries in our Texas hometowns.
Grande Cares also encourages Grande employees to volunteer their personal time to their communities outside the normal workday. Through the Valued Volunteer program, employees can earn small grants for their favorite non-profit organizations based on their personal community service. Numerous athletic teams, scout troops, youth programs and shelters are among the organizations that benefit from this program each year.