Hearing aid prices starting
at $34* per month!
Do I have hearing loss? Do I need hearing aids? What options are available to me?

All of these questions are common for people who have been noticing a change in their quality of life due to their hearing. Hearing loss is a very isolating experience both for the person affected and their loved ones. However, the answers to these questions are not as scary as anticipated. At Concept by Iowa Hearing Aid Centers®, our goal is to show you how better hearing will drastically improve the quality of your life and bring you and your loved ones back to enjoying daily activities the way you used to.

Concept By Iowa Hearing Aid Centers provides the people of Iowa with the very best in hearing healthcare services. Founded in 2001 by Iowa native Taylor Parker and his father-in-law Duane Flagel, Concept by Iowa Hearing Aid Centers has become a second home for anyone looking to find out about hearing loss and improve their hearing. Taylor and Duane are dedicated to this mission – in the last 8 years alone, Concept has donated over $300,000 worth of hearing aids to causes such as the Cedar Rapids Flood, and yearly at the Iowa State Fair – all in support of Iowans hearing better.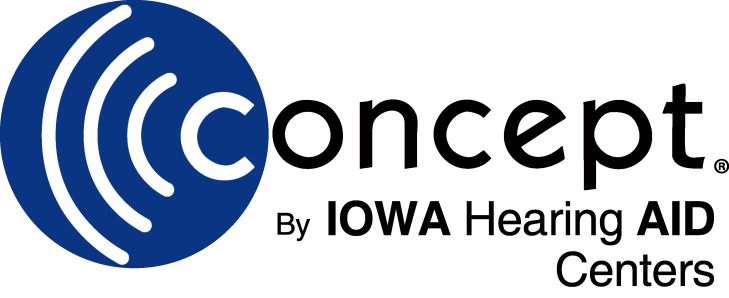 Powered by technology from Danish company GN ReSound, Concept hearing aids offer the highest quality sound, housed in a variety of sleek and modern models. Depending on your individual needs and preferences, Concept offers the best devices in the market with up-to-the-minute capabilities.

Come in to your local Concept by Iowa Hearing Aid Center for a comprehensive hearing evaluation at our expense. Learn the results of your audiogram in detail; Concept hearing care professionals use easy-to-understand language so you can understand the extent of your particular loss and how to bring you back to the lifestyle you're used to. Your Concept hearing care professional will fit you with a hearing aid specifically to suit your loss and lifestyle.

Call to schedule your complimentary hearing screening today.
* Price per aid, depending on technology level and with approved credit. See your local Concept By Iowa Hearing Aid Center for details.
---