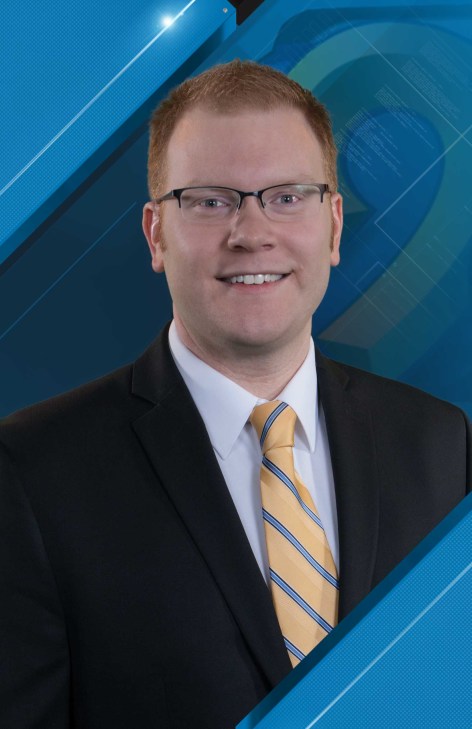 Locals voted Kaj O'Mara as one of the best Local TV Personalities. Kaj delivers his morning forecasts with enthusiasm and passion, something to be admired as his day begins at 3 a.m. Along with visiting schools to teach kids about his job, Kaj stays rooted in the community by reaching out through social media to help educate others about accurate weather forecasts. After the significant snowfalls earlier this spring, community members have voiced their appreciation for Kaj's forecasts and explanations.
Mary thanked Kaj when he posted about social media and winter weather: "I ALWAYS look to your forecast for the most straightforward, accurate forecast. It's clear and to the point."
Social media can be a problem for meteorologists as it most often "reports" false information and increases frustration with the local TV station for reporting different forecasts. Thankfully, Kaj has built a strong reputation for his honesty and truthful forecasts, all while working hard to respectfully raise awareness about social media and forecasts.
Eric echoes Mary's praises, commenting: "We are lucky to keep such a reliable, level-headed meteorologist (and nice guy) in this market."
Kaj O'Mara's passion for meteorology was ignited after watching TV9's severe weather coverage of the 1998 Washington tornado when he was a boy. After graduating from Iowa City High in 2003, he went on to earn his Bachelor of Science degree in Meteorology from Iowa State University in 2007.
Kaj was involved with both Iowa State Television and Iowa State Radio during his time at ISU, anchoring weathercasts on Wednesday evenings and play-by-play and color commentary for Cyclone football and basketball. He gained experience in the field by interning at KCCI-TV in Des Moines during the school year and at the TV9 Weather Lab in the summers, as well as conducting an undergraduate research project and serving as a teaching assistant for the Meteorology department.
Kaj was welcomed to the TV9 First Alert Storm Team in May 2007 following his graduation. He is now a member of both the American Meteorological Society and the National Weather Association and earned the new American Meteorological Society Certified Broadcast Meteorologist (CBM) Seal and was asked to present coverage of the devastating floods and EF5 tornado that impacted northeast Iowa in 2008 at the National AMS Conference in Phoenix, AZ in 2009.
Kaj and his wife have three "children," that is, two cats and a dog. He enjoys grilling out, the "fall football temperatures" of October and spending time with family and friends.
---