It is with great pride that I welcome you to Regina Early Childhood Education Center.

My name is Mary Pechous and I am the Director of the Early Childhood Program. Teaching and leading at a Catholic school was a calling that I happily accepted and have found great satisfaction in serving the early childhood students and families for twenty-five years. I entered the field of Early Childhood education because I am passionate about inspiring our young children to achieve and grow at high levels. Having studied early childhood education in college and by continuing my professional growth throughout my career, I am proud to bring innovation and developmentally appropriate learning through our Creative Curriculum program with activities that promote positive self-image, social skills, and learning that will set the stage for continued success at the elementary level.
After twenty-five years, I am proud to state that I still get excited about arriving to work each day and learning and growing with our students! Recently, we have introduced our Nature Explore Classroom and the Pre-K program to further meet the needs of the children and families of the Regina community over the last few years. With so many little friends there has never been a day I did not want to come to work. It has been the BEST!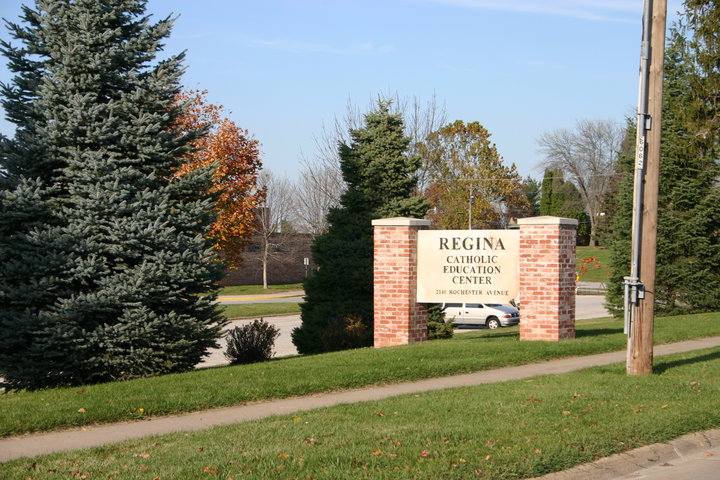 The staff and I look forward to working with our Regina Early Childhood Education families and friends. Please stop by and visit our school community, we would love to welcome you! At Regina we offer; Pre-K, Preschool, and an option for daycare. Our philosophy and objective is to assist each child in his/her unique development by focusing on the following developmental areas:
Inspiring a love of learning that will carry over into the child's elementary years.
Encouraging self-worth and positive emotions about themselves and those they interact with.
Developing a sense of respect for the rights of others.
Enriching their appreciation of their love of God and God's love for them. Providing a safe and stimulating environment on a private campus where children can learn through a variety of structured and staff supervised/child-initiated, creative activities
Regina early childhood center underscores our center's mission of "Striving to be the leading faith-based preK-12 educational center in the Midwest". Our educational days are designed to allow children increased time for kindergarten readiness activities, structured social interaction, number/letter recognition, creative art projects, Spanish language enrichment, and investigation of our physical world within our Nature Explore Outdoor Classroom.
Welcome Parents!
Regina Early Childhood Center, established in 1989, is licensed by the Iowa Department of Human Services. Since our inception, we have worked to not only comply, but surpass any standards set by law, providing a consistently safe, enriching program for children. Preschool children are creative and receptive. Here at Regina Early Childhood Center we strive to nurture and encourage these qualities in all children who attend. Our program reflects the belief that every activity in which your child invests time will teach him/her something in return, both in skills and values. Our primary purpose at Regina Early Childhood Center is to continue your work as parents. The Christian education we offer includes the physical, social, emotional, intellectual, moral, and religious development of each child. Therefore our program provides a multitude of play and social opportunities, through which each child is guided toward their optimal developmental ability. Our caring staff provides a safe, comfortable "home-away-from-home" where your child can be their own person, work at their own pace and in their own style. Each child will be respected for being a special person with a special place in God's world. We welcome you to visit our busy, sometimes noisy, creative classrooms to see the children at play. I look forward to working with you and sharing in the growth and development of your child. Sincerely,
Mary Pechous, Director
REGINA EARLY CHILDHOOD CENTER PHILOSOPHY
We at Regina Early Childhood Center feel that growth takes love. Learning through love promotes loving to learn. We provide a warm, nurturing environment where children are valued, respected and feel important in the world. Every person in the world possesses a unique individuality, not simply for mere existence, but to fulfill a distinct purpose. Each child, created by God, must be recognized and accepted as an individual with his/her unique qualities, needs, and pattern of growth. Regina Early Childhood Center provides a positive learning environment enhancing the child's social, mental, physical, and Christian development. We seek to give children a readiness in social and academic skills by encouraging exploration of their world through creative art, literature, music, food preparation, self-awareness, and play. Further, our Early Childhood Center seeks to provide your child with a home parallel to the security and love of your family. Our caring and qualified staff works to aid your child in developing independence and self-control, while gaining new knowledge and friendships. The Regina Education Center as a complete body, our Early Childhood Center included, seeks to make their unique contribution to a God-centered education in the development of Roman Catholic tradition in a changing society.
Objectives: Guided by our philosophy, our objective is to aid each child in their unique development, focusing on these goals:
Fostering a love of learning lasting throughout the child's academic career
Developing self-worth and positive feelings about themselves
Imparting an understanding of the feelings and rights of others
Growing their appreciation of God's love for them 5) Providing a safe, stimulating environment where children can learn though a variety of caregiver and child initiated activities
---